Late winter of this year, on the grounds of the Washington, DC Arboretum, a pair of eagles, named "Mr. President" and "The First Lady," returned to their nest in a Tulip Poplar tree to care for their clutch of eggs. After weeks of careful, vigilant attention by both parents, the eaglet's hatched; the first on March 18th followed by the second on March 20th, 2016. The eaglets have since been named, "Liberty" and "Freedom."
Since the hatchlings made their debut, I have been obsessed with the nest. Multiple times a day, I go to the Washington, DC Eagle site and watch the eagle cams, from both vantage points-Cam A and Cam B, giving fantastic views of their natural habitat and eagle behavior. For me, it's therapeutic, meditative and fascinating. I'd love to say that watching the nest started as a teachable moment with my four daughters, but no, it's self-driven, I'm obsessed with the nest.
One afternoon, I showed my twin teenage daughters the latest happenings on the Eagle Cam (I screen shot the nest throughout the day). My oldest daughter said, "You know you are going to be sad and devastated when the babies leave the nest, what are you going to do with your free time?"
At thirteen, her delivery was saturated in sarcasm with the cutting truth of adolescence. And she's right; I am going to be sad, probably not devastated, when they leave the nest. The power of her observation hit me immediately; her remark is a larger metaphor of parenthood, one day my nest will be empty.
Parenting is all encompassing and ever consuming, and when you're in it, it's hard ever to imagine life being anything other than what is now. And so, when my teenage daughter reminded me, all babies eventually leave the nest, it became very apparent to me, the Washington, DC Eagles are just like us, only their time in the nest, goes a lot faster.
Here are some of my observations over the past few months how the Washington, DC Eagles, Mr. President and The First Lady are just like us parents:
1. Great Anticipation. After tending to nest cleanup and preparing for a family, Mr.President and The First Lady, successfully created and began incubating two eggs. Parents can relate to the "nesting" that starts in pregnancy, preparing for a baby's arrival.
2. Sleepless Nights. Once the eaglets hatched, the new parents had several weeks filled with broken sleep, hypervigilance and tending to the new eaglets with constant feedings. Every new parent understands sleepless nights!
3. Constant Multitasking. The First Lady and Mr. President have been caring for the eaglets: hunting, feeding, keeping them warm, doing housekeeping (rearranging straw in the nest and cleaning out old carrion) and keeping vigilant for potential danger often simultaneous to other tasks.
4. Cooperation with Co-Parenting. From nest building to hunting to keeping the babies warm and protecting their safety, both Mr. President and The First Lady share the responsibilities. One of my favorite facts: both parents develop a brood patch (a bald spot on the belly) to provide warmth during incubation and in the early weeks to the eaglets.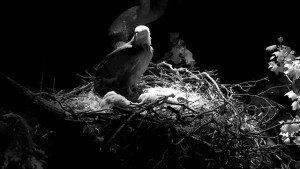 5. Babies Needs Come First. Now, I am not sure what goes on outside the camera frame, but from what I have observed, Mr. President and The First Lady put the eaglets needs ahead of their personal needs. Just like many parents, the focus is caring for the babies and then for themselves, provided there is time and energy.
6. Trying Not to Have a Favorite. Parents often deny having a favorite child. As a mom to four girls, I always say my favorite is the one listening to me. It's not uncommon for eagles to choose a favorite when there are multiple eaglets. I am happy to say, from my observations, Mr. President and The First Lady have cared for and treated both eaglets fairly equally.
7. Sibling Rivalry Exists. In the nest, sibling rivalry abounds, especially during feeding time. There have been many moments on the Eagle Cam where the eaglets were fighting it out to be fed first upon The First Lady's return with dinner. Rest assured; sibling rivalry is completely normal.
8. Modern Parenting is On Display. The Washington, DC Eagles, are parenting in a large social community with 24-hour round the clock video observation. Their parenting skills are not only on display but up open for judgment, just like parenting today.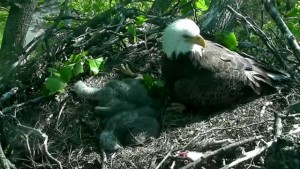 9. It Takes a Village. In the case of the Washington, DC Eagles, the village helping to ensure a successful launch of the eaglets, includes a team of scientists, biologists, and grounds keepers at the National Arboretum. Roads near the Tulip Poplar tree have been closed, to give every advantage for a successful raising of the eaglets.
10. Sharing Family Moments on Social Media. Many parents share pictures and videos of developmental milestones, accomplishments and everyday happening of their children on social media. The eaglets are no different. Not only do they have a live website, but there is also social media sites, Facebook, YouTube, and Pinterest. Most recent milestone shared on social media: Liberty and Freedom "branched", which is moving outside the confines of the nest to a nearby tree limb; a significant milestone in looking for food.
11. Teach Life-Skills. As the eaglets have grown and become less fragile and more strong, Mr. President and The First Lady have been teaching many life skills. From preening to consuming carrion and building and cleaning the nest, these parents show their eaglets the necessary skills in preparation to live independently.
12. Encourage Independence. When the eaglets were first born, they were frail, vulnerable and weak, staying in the center of the nest with constant supervision. As time progressed and Liberty and Freedom have grown, they have been left alone in the nest, allowed to move from the center of the nest to the outward edges, and most recently, even to a branch of Tulip Poplar Tree home to the family.
13. Preparing for Moving On. All babies, whether human or animal, eventually leave the metaphoric nest. It is the life-cycle of raising offspring. And while it can be overwhelming for parents to let go of their children, it is part of nature, to grow, develop and move into independence and create their own nest and perhaps, family.
Soon, Mr. President and The First Lady will be ending their time parenting Liberty and Freedom. They are preparing the final lessons needed for the eaglets to be independent. I get a little emotional thinking about it. My daughter is right; when the eaglets leave the nest, I will feel sad. Because the Washington, DC Eagle family is a larger metaphor for all parents; one day our nests will be empty, and we will have completed the intense, demanding and blessed task of helping our children soar to independence.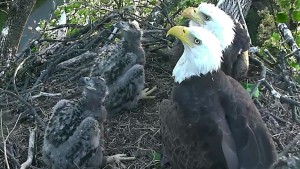 I am grateful my babies are still in the nest, as I have at least twelve years before my nest is empty and about five before my first fledglings leave. And it is this time of year when the endings are intensifying, both in nature and in parents homes everywhere. The Washington, DC Eagles are just like us, only their time in the nest, goes a lot faster. But my heart and thoughts go out to the parents whose fledglings are leaving the nest, what an accomplishment! Well done moms and dads!
A huge thank you to the American Eagle Foundation for the use of photos in this post. Please follow this link and sign the petition to help establish American Eagle Day. This petition needs 100,000 signatures and currently. Follow the link to help establish a permanent and annual American Eagle Day and feel free to share this post! I can't think of a better way to support and honor the symbol of America.
Thank you so much!
© 2016 American Eagle Foundation, EAGLES.ORG. (For website photos used in this article)
© Dr. Claire Nicogossian 2016